Brand Creation
This project was selected from Nottingham Trent University's Art and Design faculty as the submission for Graduate Fashion Week 2022's Fashion Innovation Award.
The Brief:
During my third and final year of my BA Hons degree in Fashion Communication and Promotion at Nottingham Trent University I undertook my self devised project. This brief allowed me to investigate the context of a chosen subject area, generating ideas, visual concepts, and physical outcomes.
I consider one of my key strengths as both a creative and an individual my kindness and compassion; my care for social causes is as prominent as my personal relationships. This project will consider the relationship that we have to the world around us and how we can encourage more consumers to consider circumstances other than their own.
Outcome:
Over the course of around 6 months, I proposed a brand named Empaphoria which seeks to make activism approachable, a positive uplifting practice. It promotes the genuine benefits of altruism, demonstrating that being thoughtful and open to experiences other than your own, can be exciting, boosting self-confidence, with a view to ultimately change the world we live in for the better.

This responds to the discovery that the target consumer finds social issues overwhelming and confusing. Whilst social media spreads awareness not enough action is prompted
Subscription box:
The primary outcome is a subscription box service, named Empaphoria UnWrapped, which will first launch in collaboration with Spotify. Consumers will receive a monthly box covering a different social issue each month. Inside the box will be curated playlists, small gifts, an exclusive cassette tape featuring a recorded interview with artist of the month and a zine, named Empaphoria Explores.


The March edition, named WomanKind, focuses on intersectional feminism, highlighting the music and global experiences of women from all backgrounds and cultures. Content ranges from music and podcast recommendations to in-depth stories from Bangladesh garment workers, providing prompts for the consumer to respond to. It also includes a cassette player and tape featuring the In Conversation episode with artist of the month Little Simz.

There are consistent scannable QR codes throughout the zine, making the inspired action quick and easy to follow through, creating a seamless blend between physical and digital channels.
Reading 2022 Pop-Up:
The secondary outcome is a pop-up event at Reading festival, promoting Empaphoria and their collaboration with Spotify. It is an immersive space full of music and artistic collaboration, bringing consumers together to explore/share outlooks and feelings on timely relevant social topics. Consumers will leave open to realities they hadn't explored before.

I collaborated with a digital renderer, Janus DeGuzman, to bring to life Empaphoria Explores which will be set in a beautiful open white tepee. The central area is a bright art space where the consumers can use magazines and newspaper clippings to make zines, collages, etc in response to certain timely prompts which will appear on surronding screens.

This activity is designed to inspire and expand ithe consumers interpretations of the world asthey understand it today, the way they view our planet and the people who live on it.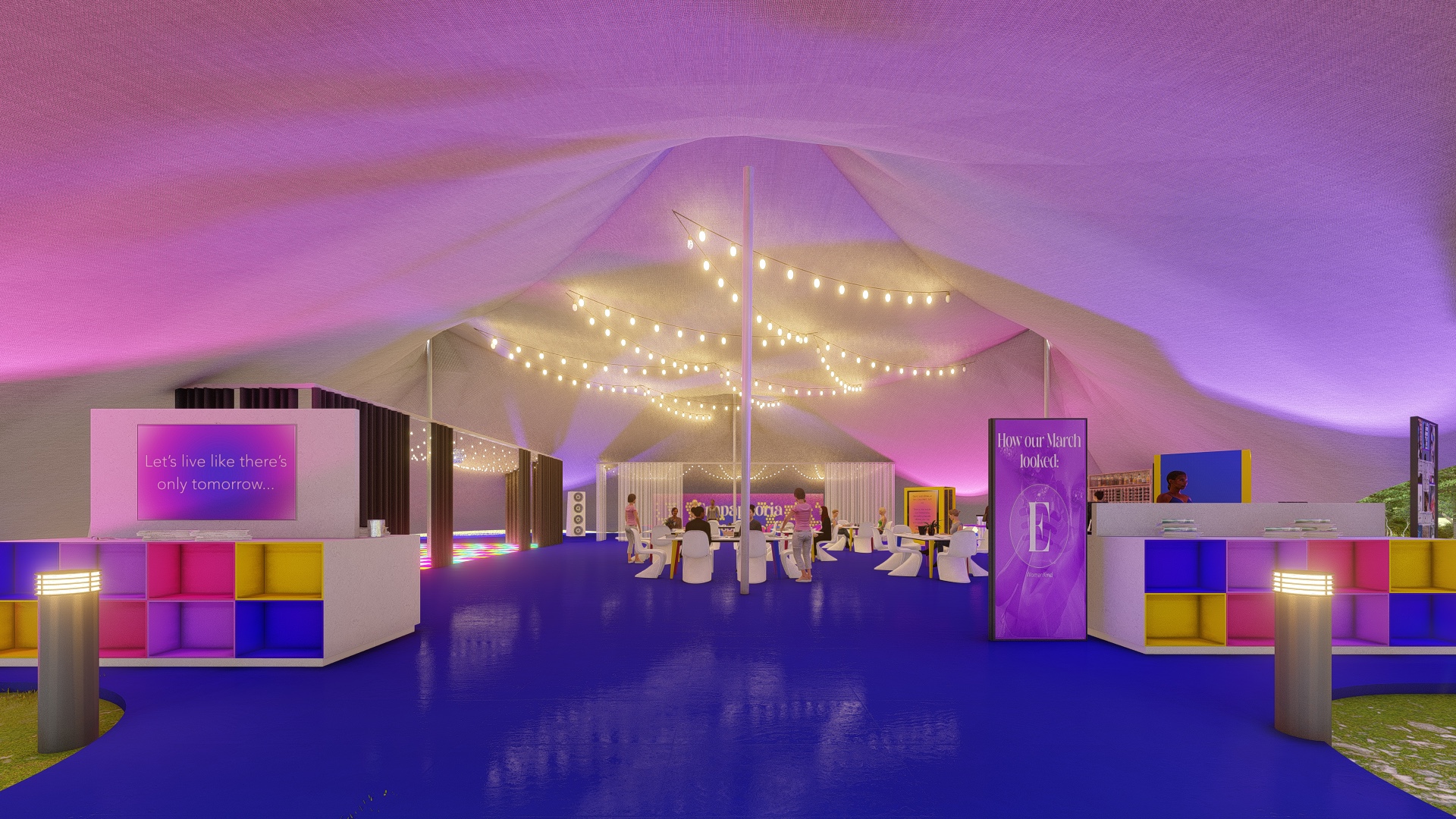 TikTok:
The TikTok account promotes Empaphoria UnWrapped by featuring un-boxings from consumers as well as relevant influencers and artists. Immersive short film trailers, consumer response to zine and light-hearted trend based content will be shared to connect digitally with Empaphoria's consumer.

Brand conceptual trailer